If you follow me on Instagram (or stories) you know that I've just spent some days in Mallorca with my family. My boy and I love to travel! When we were just the two of us, we made amazing trips with a backpack and a guide (we are very fans of Lonely Planet) and, without planning the trip in advance. Nothing in advance. We don't like typical tourist destinations or crowded beaches. What we enjoy are little coves and the lonelier the better! And these sites are never kids-friendly.
But since we are three (for exactly 1 year), obviously things have changed. We still like the same places but now we must take into account the needs (which are not few) of that third person that travel with us. Now we have to plan in advance, and choose more kids-friendly places. Therefore the question is the following: how can you enjoy the holidays with a baby, but without giving up what we always liked? I tell you how we arrived at a compromise solution.
Accommodation
What we decided from the beginning is that we did not want to go to Palma, we both know the city and although it's beautiful, the idea of spending our holidays in another city (living in Madrid) was not seducing. We chose a much more rural site. We wanted the countryside and the beach. After an extensive search on the internet, browsing hotels and apartments everywhere, we opted for a small family hotel Son Ametler in Selva. It is a charming rural hotel, its owners Paola (natural Italian from Kenya) and John (English) are lovely.
The hotel has a dream garden, surrounded by Sierra de Tramontana and a very inviting pool. The garden has some slopes and there are a couple of steps but it can still be accessed with a baby stroller. The decoration of the hotel is rural with African decorative touches (from Paola's country of origin). Of course, the nearest beach of the hotel is about 25 km so you have to take the car. And of course to get to the hotel from the airport.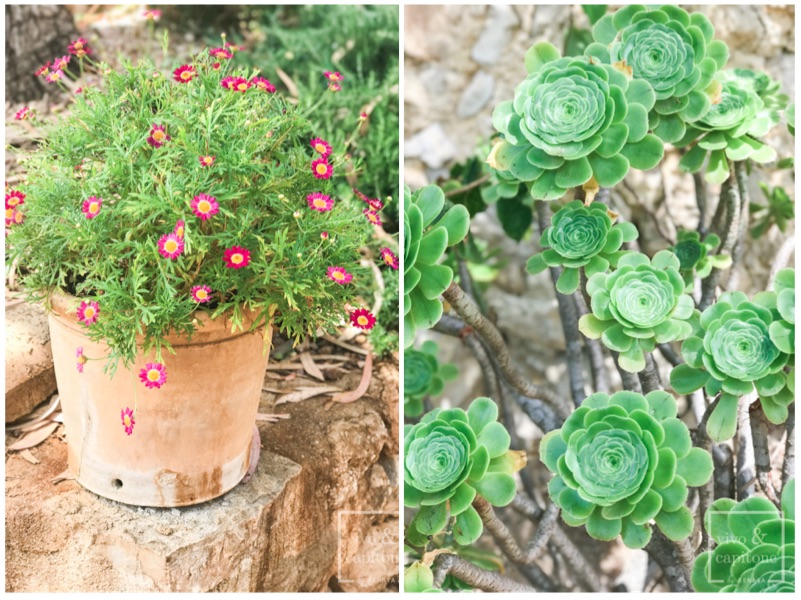 Beaches
The first day we went to one of the beaches that was recommended from our friends with children: Playa de Muro. The beach was alright, it was quite wide, white sand and there were not many people (beware! We went in June, I imagine that in the busy months things might change). But somehow it was not what we expected from Mallorca, it was not a little turquoise water cove like the ones you see on postcards … Even so we had a great day that day. Seeing your one-year-old daughter thrilled by the first time in sand is priceless.
On our way back we passed by the beach bar Milano Beach that I recommend for lunch and even for a drink. Children can run between tables and sit on the grass. It also has a DJ that plays very uplifting music (that day).
The next day we decided to drive a couple more kilometers and go to see Formentor Beach. And there we found what you imagine when you say 'Mallorca': Turquoise blue water, white sand and pine smell. This beach is perfect for young children because of its easy access to water, not deep at all, and because the trees along the beach provide a lot of shade, you can even spend the day without carrying the umbrella. In addition, if you feel like it, you can rent proper umbrellas and sunbeds (of course, they are not cheap).
That same day in the afternoon we went to Cala San Vicente where we stayed for dinner. The beach is tiny and has a part where you can rent straw umbrellas and sunbeds. The only problem we found is that access to water is not easy. There are a lot of slippery stones and stepping on them with bare feet can be a bit painful. Children must wear proper shoes. The town is tiny but cute. We had dinner on the terrace of a hotel with beautiful views of the sea.
Another beach we enjoyed during our trip was Cala del Moro in the south of the island. It was a bit far from our hotel, but everyone was talking so well about it that we decided to go have a look. In fact, the beach is a very pretty little beach but with a bit complicated access. You will find photos of this beach in many postcards, and the easiest way to visit it is with a baby carrier. However, take into account that you cannot park nearby, from this year they have banned cars from entering the urbanization nearby, so you have to carry everything. The beach is really beautiful but you have to go very soon because being so small, it literally runs out of room to put the towel.
Dining
The hotel had its own restaurant but unfortunately we did not have time to try it since on the island they respect most European schedules, dinner began at 8 o'clock and we were never back at the hotel.
One night (around Formentor) we took a walk through the nearby town: Pollensa. It is a charming town with its little square full of life. There are several bars and restaurants around. We had dinner at an Italian restaurant that was… fine. It's complicated to mess up with pasta, anyway.
I already mentioned Cala de San Vicente and the hotel with beautiful views for dinner. Some more photos of the site:
On our way back from the Cala del Moro we were a bit lost (and hungry) so we decided to stop in the first town we found (Las Salinas) and to our surprise it was a lively town with lots of restaurants. We had dinner at a Cassai restaurant that we chose not so much for its food but for its original decoration (does it happen to you too?). It was a daring mixture of many decorations and plants but the atmosphere was warm and pleasant. The restaurant also had a part that served as a showroom for decoration, papers and fabrics. Unfortunately I do not have many photos of the site because it was night and the light was not very good for taking photos. But here you can find a couple that I have managed to get properly, and the rest you can see on their website.

I hope you liked it and inspired you to spend a little more "challenging" vacation with your children. I would love to hear about your vacation experiences with children. Do you prefer staying in a big resort or do you prefer a little more adventurous vacation? How do you manage as a family?
If you have any questions or if you need any address, do not hesitate to write me.
Thank you very much for reading me and see you next week!